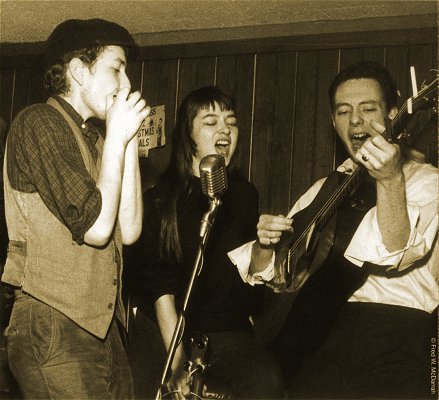 [From Theme Time - "Cars"] - "A delivery boy makes a wrong turn."

Subscribe to Dreamtime




Direct link to mp3

This is the Dreamtime podcast - occasional commentary on Bob Dylan's Theme Time Radio Hour weekly show.

Episode 5 - "Two voices from Chronicles."

I'm changing gears in this episode, talking about two singers who have yet to appear on Theme Time... but probably will at some point. To correct a mistake I made in episode 4, Fred Neil was not the owner of the Cafe Wha?, but a singer/songwriter who ran the daytime show at the Wha? as Dylan notes in Chronicles. Thanks to "jump right in" for pointing out the error to me.

Born in Cleveland, Ohio in 1936 and raised in St. Petersburg Florida, Neil came to New York in the late '50s, working at the Brill Building as a staff writer. At the Brill, a musician could find a publisher and printer, cut a demo, promote the record, and cut a deal with radio promoters, all within one building.

In 1960, Neil began to perform solo at the Cafe Wha?, as well as the Night Owl and Bitter End. By 1961, he was sometimes accompanied by Dylan and Karen Dalton, both pictured with Neil in this episode's show notes.

Neil was something of a musician's musician, influencing among others John Sebastian, who would go on to form the Lovin' Spoonful; Paul Kantner, who would lead Jefferson Airplane; Richie Havens, Felix Pappalardi, the producer of Cream (as well as the bassist for the group, Mountain), and both David Crosby and Stephen Stills. A story, possibly apocryphal, has it that Stills and Crosby originally wanted to call their supergroup with Graham Nash "The Sons of Neil."

Neil compositions were recorded by both Buddy Holly and Roy Orbison; he also played as a session guitarist for Bobby Darin and Paul Anka. In 1968, Nilsson recorded a cover version of Neil's song "Everybody's Talkin'," which became a mega-hit when it was used as the theme song in the film Midnight Cowboy.

Neil semi-retired in the 1970s and passed away in 2001.

[Everybody's Talkin' excerpt]

Of Neil, Dylan writes,

"Freddy had the flow, dressed conservatively, sullen and brooding, with an enigmatical gaze, peachlike complexion, hair splashed with curls and an angry and powerful baritone voice that struck blue notes and blasted them to the rafters with or without a mike. He was the emperor of the place, even had his own harem, his devotees. You couldn't touch him. Everything revolved around him. Years later, Freddy would write the hit song 'Everybody's Talkin'.' I never played any of my own sets. I just accompanied Neil on all of his and that's where I began playing regular in New York."
In the same section, Dylan reveals his favorite singer at the Cafe Wha? was Karen Dalton.
"A tall white blues singer and guitar player, funky, lanky and sultry," Dylan writes. "Karen had a voice like Billie Holiday's and played the guitar like Jimmy Reed and went all the way with it."
Picture a room, empty except for an unmade bed. A woman lies on it, staring up at the ceiling, watching a fan turn, slowly pulling the smoke from her cigarette into its blades. A half-empty glass of wine is on the floor, by the woman's hands...
[Little Bit of Rain excerpt]
That's Karen Dalton, singing Fred Neil's Little Bit Of Rain on her first album,
It's So Hard To Tell Who's Going To Love You The Best
, originally released in 1969 and reissued on CD in 1997. As Dylan, and nearly everyone else who heard her noted, Karen's voice strongly resembles that of Billie Holiday's, in fact to the point where the Capitol press release for her first album described her as "the folksinger's answer to Billie Holiday."
Dalton's voice is also eerily similar to the modern day smoky voiced singer, Madeleine Peyroux, who herself is often compared to Holiday. Unlike Peyroux, Dalton never had that much popular success. In the little information available about her on the Web, that may have been because she was uncomfortable in the studio and had to be coaxed into recording the two albums she did produce, or perhaps because she rarely wrote her own songs, or perhaps because of drug and alcohol problems she reported struggled with until her death in 1993.
Fred Neil who had first brought her to the attention of Capitol Records wrote in his 1971 liner notes to her second album:
"She did 'Blues On The Ceiling' (which is my song) with so much feeling that if she told me she had written it herself I would have believed her. Her voice is so unique, to describe it would take a poet. All I can say is she sure can sing the shit out of the blues."
The country singer Lacy J. Dalton has said that she took her name from Karen, who had greatly influenced her singing style. Also known as "Sweet Mother K.D.", It is said that the song "Katie's Been Gone" by The Band was written about her.
A great, haunting talent that never got the audience she deserved, you can buy Karen Dalton's first album on
Amazon
or as separate tracks through iTunes.
There's apparently
a European version
of "It's So Hard…" just released in July of 2006, that includes a DVD described in a review at Amazon UK as, "a 25 minute home movie , directed by Dalton and shows her hanging out playing her guitar and performing four songs."
This has been Fred Bals with the Dreamtime podcast - occasional commentary on Bob Dylan's Theme Time Radio Hour – and occasionally commentary on other things that may or may not show up on Theme Time.
Until next time, sweet dreams.
Sources:
FredNeil.com
;
Karen Dalton disography page
;
Nicholas Hill email on Karen Dalton
; "Folk Revisited" by Steve Ritchey in T
he Student Underground
, 2004 (
Google cache link
);
Chronicles: Volume One by Bob Dylan